With the introduction of another music streaming service, we7, to Ireland earlier this month, it's time to write a best of post and consider the three best free music streaming service options available to choose from.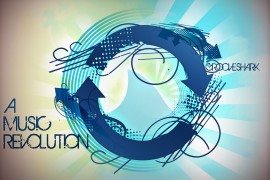 Easy decision. Grooveshark is easily the best music streaming service available in my opinion. The HTML5 interface is easy to use and intuitive. That said, and even with so little reliance on Flash, Grooveshark still doesn't work within Safari on the iPad. Individual songs and artists can be chosen and playlists created. The service includes Grooveshark Radio to intelligently recommend songs, and a "thumbs up" and "thumbs down" feature to rate those recommendations.
We7 has been avaiable in the UK since 2008, and launched in Ireland earlier this month. Songs are free to choose and play, although are streamed along with a short audio advert before each track. The site boasts a healthy 6.5 million tracks from all four major music labels. Ad-free service is offered for a monthly subscription.
We covered Eircom's MusicHub offering when it was first announced and were pleasantly surprised. The service is free to stream for existing Eircom Broadband customers, with subscription packages available to allow track downloads and to allow non-Eircom customers access. Eircom boast of four million tracks that can be streamed or downloaded DRM free, so they can be used across multiple devices. The only real downside is that the website relies heavily on Flash something that doesn't bode well with mobile devices and Apple enthusiasts like myself.
Other notable services that aren't free, or are not available here in Ireland yet, include Spotify, Pandora, Qriocity, and Last.fm. Share your thoughts in the comments.