In what has to be one of the most startling breaches of privacy of an individual in modern history two of the world's largest technology companies, Microsoft and Google, and the US Military, will be tracking the exact location of Santa Claus this year.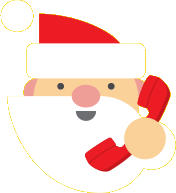 Google today launched its annual Santa Tracker, although not without some mild controversy first.  Since 2004 Google and NORAD (the North American Aerospace Defense Command), have been using Google Earth to track Santa's global journey on Christmas Eve.  (Of course, the tradition predates the introduction of Google Earth – NORAD has been tracking Santa since 1955 but back then children had to call the military organisation to find out where he was.)
Last year Google reported record numbers of impressions to its Santa Tracking site but this new found popularity wasn't enough to stop NORAD and Google parting ways this year.  Santa will still be tracked, but Google is going it alone with its own tracking application using Google Maps while NORAD has now partnered with Bing Maps.
What to do before tracking Santa
You'll be able to track Santa from Christmas Eve but if you want to get into the Christmas spirit (or want to occupy the kids for a few hours) both NORAD and Google's sites have plenty to keep the children busy already.
The stand out web application is Google's Santa Call webapp.  With the app you can arrange a call from Santa using Google Talk (although only if you're in the US or Canada).  If you're not in North America you can use YouTube to send a personal video to someone, this is a continuation of Google's YouTube application which they released last year.
Apart from that Google's Santa's Village website has a bucket load of links and games (some of which are actually quite hard) to play with and explore.  Google's site is responsive, so you'll be able to comfortably view it and play the games on your mobile.
NORAD's Santa's Village has many of the same games and features but because it is Flash based you'll need a PC to interact with it.
Track Santa with Maps
Even though Google isn't working with the might of the US military to track Santa that doesn't mean they'll have any difficulties in doing so.  Google's Santa Tracking website will not only track him as usual but this year will use Google Maps, rather than just Google Earth, to do so.
Google will start tracking Santa at 2am PST on Christmas Eve (5am EST, 10am GMT, convert this time into your local time here). Google says it has some special technology ready for the big day;
"On Christmas Eve we'll be proudly showcasing a preview of Santa's dashboard — the technology that powers his sleigh during his around-the-world journey. We've received this special preview from one of Santa's many developer elves, who are hard at work in the North Pole helping Santa prepare for his big day. Santa's dashboard – featuring the latest and greatest in Google Maps technology and sleigh engineering – will allow you to follow his progress around the world, and also learn a little about some of his stops along the way."
NORAD and Bing Maps will start tracking Santa on Christmas Eve (no specific time is given yet).  They'll also be using Cesium which will use its WebGL-based maps to plot Santa's journey in 3D through your browser, meaning you won't have to download another Google Earth-style application.
Track Santa with apps
NORAD/Bing and Google have both released smartphone and tablet apps to help you track Santa this year.
Google has kept things in house and only released Android and Chrome apps.  Both of these are basically the same; the Chrome app gives you the countdown to Santa's journey, along with a link to the Google Tracks Santa website.  The Google Android app appears to show the same content as the website (although we couldn't get any of the app's links working…)
Bing and NORAD have released Santa Tracking apps for all of the major smartphones – Android, iOS, and Windows Phone– they have also released a Windows 8 app.
Track Santa on social media
For a man that delivers presents to the world you could easily accuse Santa of over sharing, and that's especially true this year as Ol' Saint Nick will have no fewer than six social media accounts.
Google will be using its Google Maps Twitter, Facebook, and Google+ accounts to broadcast Santa's journey in real-time this year.
http://twitter.com/googlemaps/status/281286113883205633
NORAD will be using its Twitter, Facebook, and YouTube accounts to stalk the jolly old man this year.

So, with these you'll have no excuse to not know where he is and what he's up to this year (and you should be able to get some peace and quite for a few hours).