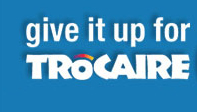 Irish charity Trócaire is inviting Facebook users to give up something they love for just one day, to raise money for charitable causes across the world.
From March 3 to 4 this year Trócaire, which runs over 124 programmes in 38 countries across Africa, Asia, Latin America and the Middle East, is challenging Facebook users to sponsor their friends who give up using one of dozens of items or activities, including Food, The Web, Coffee, Music, Texting, Make Up, Chocolate or TV for 24 hours.
The Facebook campaign hopes to encourage friends to help other raise money for a worth while cause while also raising awareness of the work of the charity. This year, as with other years, users can set up a sponsorship page on the Trócaire website and also sponsor a friend.
Users can invite their friends to take part here.
Facebook users can choose which item to give up on the charity's Facebook page from where they can also sponsor their friends.
This year's campaign is being fronted by Irish singer Imelda May, World Boxing Champion Katie Taylor and GAA star Graham Canty. RTE's 2fm's Paddy McKenna and Citybeat's Emma Fitzpatrick will be challenging also be challenging millions of radio listeners to give up one of the items on the March 3.
Trócaire says, "Help us raise essential funds for our life-changing work overseas by giving up something you love for the day and raising sponsorship. Food, music, the internet, your phone… what you give up is up to you!!"