Euro 2012 kicks off today and although you'll probably want to at home or down the pub that mightn't always be possible. So, here's our guide to your digital 2012 UEFA European Football Championships.
Plan
One of the easiest ways to plan your schedule is to simply use Google. Google provides unique listings for each of the matches directly in its search results. These custom results show you when each match is on, which teams are playing and what times the marches start (according to your time zone). Google will also directly link you to the official UEFA page for each match which will give you the latest details and statistics.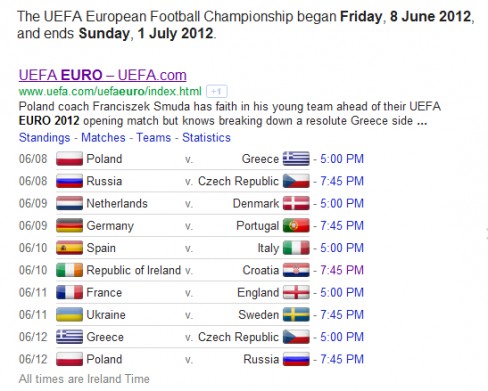 How to Watch
If you can't get down to the pub or home for the match you can always watch on your mobile or tablet. Services like the Ireland-based AerTV, which will be streaming Ireland's matches to it websites and apps, are a good start. According to the company an increasing number of users are opting to view live sporting events on mobile with iPhone and iPad being the most popular mobile viewing devices.
In the UK TVcatchup.com will be streaming the BBC and ITV's coverage of the Championships. If you're in the States, Canada, or elsewhere services like ExpatShield should give you access to view the matches.
Don't miss anything
iPhone, iPad, and Android users will be able to access the latest results from each match, including video highlights, using the official EUFA apps (Android | iOS). The apps won't show the matches live but will give detailed background information, exclusive interviews with players and coaches, including calendar, standings, line ups, players' profiles, detailed statistics and photo galleries. However, match highlights will only be available the midnight after the matches and only as long as you pay.
Chrome users will be able to get the latest information on the tournament directly to their browser using Google's collection of official and unofficial Euro 2012 browser apps. Here you'll definitely want to add will the Carlsberg's UEFA Euro 2012 app. This app will show you the latest news from the tournament, video highlights, as well as live alerts for each match.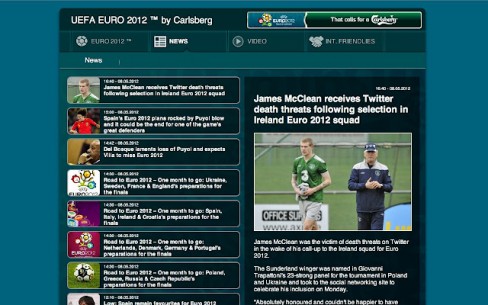 If you don't have Chrome Google has provided a special download which contains a number of the key football-related apps.